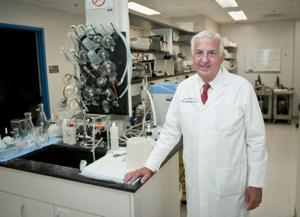 As medical training gets more and more specialized, a doctor's individual mentors become even more important.  I had the good fortune to learn from a well respected and accomplished Professor and Chairman of my Plastic Surgery Department. Below is a copied story recently about Dr. Argenta.
Winston-Salem doctor receives award for device that helps wounds to heal
By Fran Daniel Winston-Salem Journal
Dr. Louis Argenta always had an interest in science and history while growing up in Detroit.
Then one day in 1960, his aunt gave him a book that had a big influence on his life.
"She brought me an Albert Schweitzer book and told me that I should be a doctor like that, except that I should comb my hair and shave," said Argenta, a professor and chairman emeritus of the Department of Plastic and Reconstructive Surgery at Wake Forest Baptist Medical Center.
After reading the book, he realized he wanted to be in medicine.
Schweitzer was a theologian, philosopher, organist and medical missionary. Some photos of him on the internet today show him with unruly hair and a bushy moustache.
This month, Argenta received the 2016 Jacobson Innovation Award from the American College of Surgeons, of which he is a fellow. The award honors living surgeons who have been innovators of a new development or technique in any field of surgery. It is made possible through a gift from Dr. Julius H. Jacobson II and his wife, Joan.
The award recognizes Argenta's work with co-inventor Wake Forest Baptist bioengineer Michael Morykwas in the development of vacuum-assisted closure, or VAC, a technology used in the treatment of difficult wounds and burns.
The VAC
The VAC system promotes healing primarily by using a vaccum — or "negative pressure" — to pull infectious fluid away from a wound, as well as draw the edges of the wound together.
Argenta and Morykwas filed patent applications on their inventions in 1991.
Wake Forest University Health Sciences, the legal name of the research component of Wake Forest Baptist, licensed the negative-pressure wound-therapy technology to Kinetic Concepts Inc. in 1993, and in 1994 Kinetic commercialized the first of its vacuum-assisted closure systems. Wake Forest University Health Sciences receives royalties from Kinetic for the device.
A legal dispute between Wake Forest University Health Sciences and Kinetic stalled the licensing revenue for the system for a while. But in 2014, the two institutions completed a settlement agreement over the negative-pressure wound-therapy technology in which Kinetic agreed to pay retrospective U.S. patent royalties of $280 million to Wake Forest University Health Sciences over several years. The last payment of $30 million is scheduled to take place in 2017.
The American College of Surgeons said in a news release that VAC "is widely recognized as the most important advancement in wound healing in the past 25 years.
"By clinically applying a controlled vacuum through a special device to a wound, the body can be induced to develop new tissue, and wounds that previously could not heal are made to heal spontaneously," the organization said.
It also said that VAC is estimated to have prevented 1 million amputations, has been used in the treatment of more than 14 million patients around the world and has been used by medical personnel in the U.S. military for battlefield injuries in Iraq and Afghanistan.
Argenta recalled how people laughed at the VAC idea early on.
"It was a different way of treating a wound," he said. "In those days, we used to pack a wound with gauze and with dressings and stretch it out."
But, he said, people began to gradually use the VAC, especially overseas.
"The good thing was that there was a lot of very cooperative surgeons here that started adapting the use of the VAC machine to their patients as well," he said, referring to Wake Forest Baptist.
Argenta said he and Morykwas get letters of thanks all the time from people who were helped by the VAC or from their family members.
"It's been very rewarding," Argenta said. "A lot of these people would have suffered for a long time, and a lot of them probably wouldn't have gotten better."
Along the road in medicine
Argenta was born to Italian immigrants in 1942 in Detroit.
"My parents never had any formal education," he said.
After graduating from Detroit Catholic Central High School in 1961, he went to college at the University of Michigan where he received his bachelor's and medical degrees.
He completed his internship at the University of Michigan medical center in 1970. That same year, he was drafted in the U.S. Navy during the Vietnam War and served until 1973.
I spent two years at sea, and I couldn't swim," Argenta said, laughing. "That was a real problem, but we went all over the world."
He said he was a surgeon for 8,000 men in a full squadron of ships and gained a lot of experience as a surgeon.
"We did what needed to be done," he said. "We did orthopedics, general surgery, chest surgery."
When he returned home, he resumed his medical education, which included a fellowship in Paris.
He served on the University of Michigan surgical faculty for seven years, rising to the rank of associate professor and interim head of the of plastic-surgery section until 1988, when he joined Wake Forest Baptist along with Morykwas and Dr. Malcolm Marks, a plastic surgeon, who were both at Michigan.
At Wake Forest Baptist, Argenta helped establish a freestanding department of plastic and reconstructive surgery as professor and chairman. He stepped down from the position of Howell Professor and Chairman at the medical center in 2008. He continues to be academically active and devotes two days a week to research at Wake Forest Baptist.
Argenta said he has performed thousands upon thousands of cleft surgeries, especially on children, in the United States and overseas in Africa, China, India and eastern Europe.
He was the medical director of the cleft clinic and medical director of the craniofacial clinic at Wake Forest Baptist for 24 years. Before that, he was the medical director of the cleft clinic and medical director of the craniofacial clinic at the University of Michigan medical center for seven years.
In Third World countries, many clefts are unrepaired, even in adulthood, he said.
His oldest patient with a cleft palate was a 77-year-old woman in India.
"She was told that if she didn't complain that in the next life she would be better, so I asked her why was she here?" Argenta said. "She said, 'I'm tired of waiting.'"
Argenta is an internationally recognized expert in mechanobiology — the application of controlled mechanical energy to induce biological changes in living tissue — and its applications in clinical medicine. He helped develop and popularize the surgical technique of tissue expansion to generate living tissue for reconstruction.
In 1995, Argenta and Dr. Lisa Renee David recognized that infants who remained in one position while sleeping on their back developed skull deformities because of the mechanical force placed on the malleable neonatal skull. They demonstrated that the resulting deformity could be corrected with helmet therapy rather than a surgical procedure because there was not a true bony fusion in the skull.
Argent is humble when he talks of his accomplishments.
"I've always tried to hang around with people who were smarter than me, and I learned a lot from them," he said.
Farming and more
Now, at 73, Argenta no longer operates in the United States but still performs surgery overseas, working with a lot of younger surgeons.
He is married to Mary Jo "Ginger" Argenta and lives on a farm in Farmington, where he raises cattle, is starting to grow grapes and loves to bush hog.
The couple have eight children, two of whom are adopted from Ukraine.
Five of their children have chosen careers in the medical field.
"Two doctors, one physician assistant and two nurses in the making," he said.
For the past 20 years, the Argentas and their children have gone overseas on mission trips with various groups to provide medical care to the medically underserved.
"We try to go every year," he said.
The family has established and continues to support multiple hospitals, clinics and orphanages in developing nations.
Colleagues' comments
Morykwas and William Wagner, both professors in the department of plastic and reconstructive surgery at Wake Forest Baptist, spoke of Argenta's award.
"It's an appropriate award because of the research that has been done for human health," Wagner said. "It's pioneering work. We also need more clinical research scientists to carry on the work."
Wagner said that Argenta is good at stimulating other people to think of the patient first, and he allows people to think outside the box.
"The ideas that he has relate all to clinical problems where there are no solutions presently, but when he talks to other people about these problems, then he suggests things that allow them to have input into those ideas that can then proceed to address these problems in a scientific way," Wagner said.
Morykwas said he and Argenta spent a lot of hours in the beginning with their research on the VAC, but they had a lot of fun.
"It was a collaboration back-and-forth," Morykwas said. "It was a good partnership."
Mark D. Wigod, MD, FACS, providing Cosmetic and Reconstructive Plastic Surgery to Boise, Meridian, Treasure Valley and Southeastern Idaho.